Qualcomm FastConnect 6900 & 6700 will offer Wi-Fi 6E with true multi-gig speeds thanks to seven 160 MHz channels
Wi-Fi 6 is fantastic, but it is not quite as revolutionary in speeds as you might hope. For most scenarios, the best connection you are likely to achieve is a 2×2 on 80Mhz channels giving you a connection rate of 1200mbps. That is a far cry from the 4804 Mbps you will see printed on the side of many flagship Wi-Fi 6 router boxes.
Wi-Fi 5 devices using 2×2 on 80Mhz, which is the standard connection nowadays, will connect at 866Mps. So the current range of Wi-Fi 6 devices offers a 39% increased connection speed, and during my reviews, I have found many Wi-Fi 6 routers are capable of transferring files at around 100MB/s.
160Mhz wide channel and DFS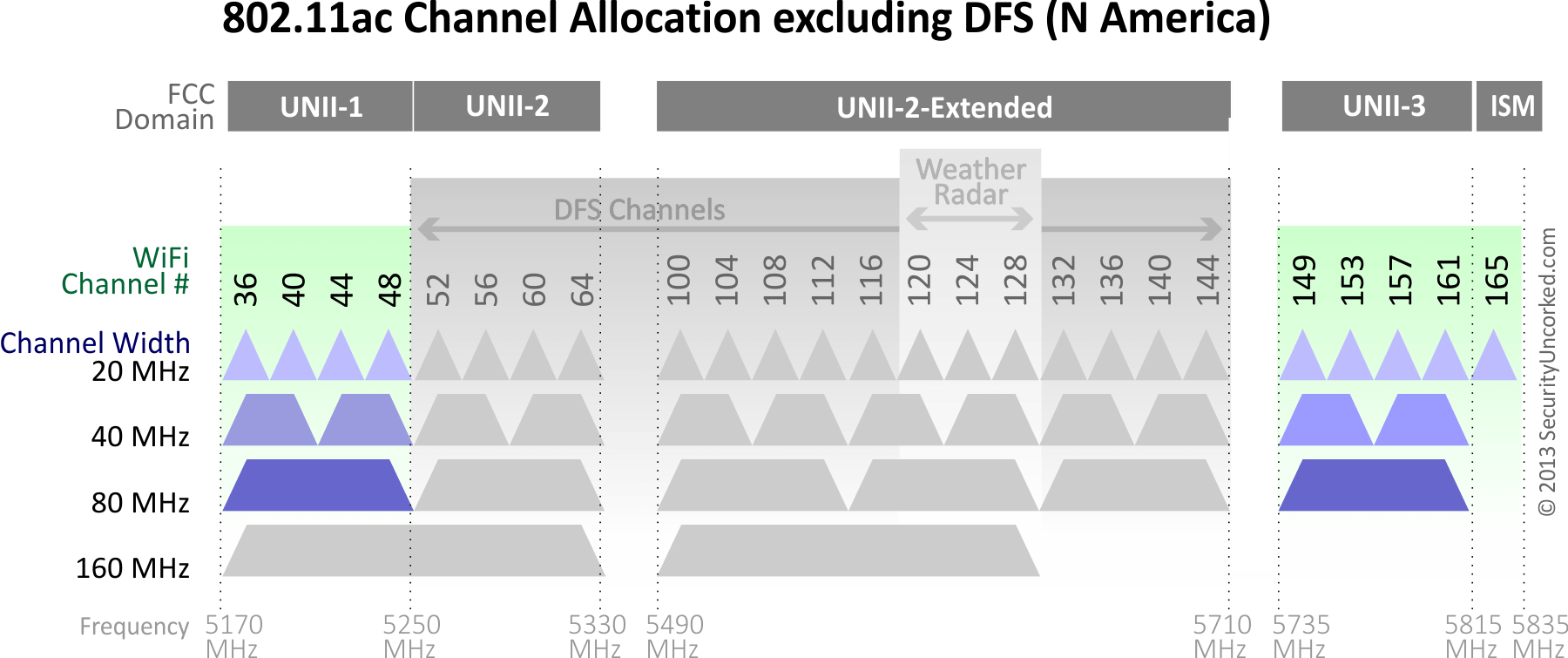 While Wi-Fi 6 is capable of those 4804 Mbps speeds you need to a client that can connect with 4 streams at once (there are none), then use a 160Mhz wide channel.
The problem with this is that there are only a small number of channels available and some of these are shared with radars, that are used for planes. So the DFS channels are allowed to be used but only when the access point does not detect any radar.
To the best of my knowledge, there is just 25 20Mhz channels with 16 of those being classed as DFS.
Wi-Fi 5 and Wi-Fi 6 use 80Mhz channels as default, reducing the number of channels that doesn't cross over down to just 6.
So then when you double this up again, the options drop down to just two, with one of them falling into DFS.
So, while most Wi-Fi 6 devices are capable of connecting with 2 streams giving you 2400mbps it is often not that easy
Wi-Fi 6E and 6Ghz vs Wi-Fi 6 and 5Ghz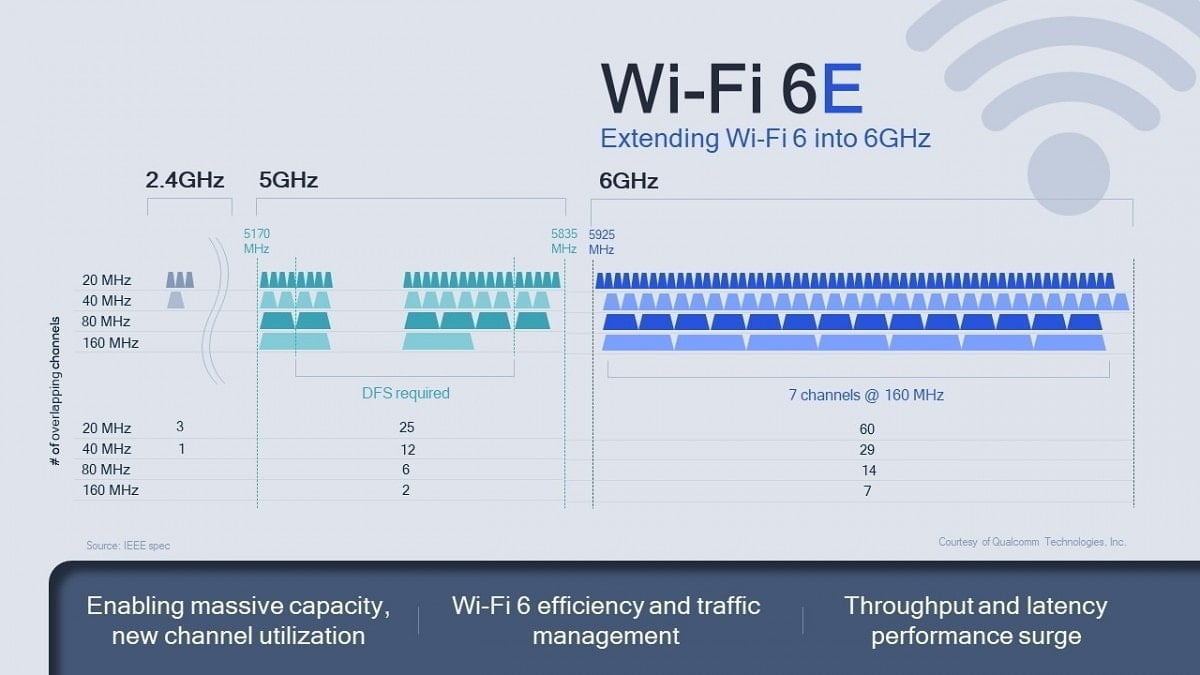 Wi-Fi 6 was always designed to go beyond 5Ghz, but with all the red tape around the wireless spectrum this wasn't done at first.
Wi-Fi 6E is the first step moving beyond that being compatible with 6Ghz and the U.S. FCC allocated almost 1200MHz of that spectrum to the 6GHz band for Wi-Fi 6. Previously the Wi-Fi had approximately only 400MHz of the spectrum. So now Wi-Fi is getting three times the spectrum range previously possible.
Furthermore, the 6Ghz channel isn't currently used for anything else too important so there are no DFS channels to worry about (from what I know).
This then gives you a massive number of options on 6Ghz with 7 channels available at 160MHz and 14 at 80MHz. Due to the lack of congestion on these channels, devices should be able to perform better too.
So theoretically, there should be no issues connecting a Wi-Fi 6E device using 2×2 at 160Mhz giving you access to that impressive 2400Mbps connection speed. In real life, I have found that equates to around 150MB/s files transfer speeds, finally allowing Wi-Fi to go beyond gigabit ethernet.
What about 6Ghz in the UK and EU?
The UK has been less generous with the 6Ghz spectrum. In January it was announced that 500MHz of spectrum in the 6GHz frequency band would be allocated to Wi-Fi 6E
It will also remove the Dynamic Frequency Selection (DFS) requirements from Wi-Fi channels in the 5.8 GHz band (5725-5850 MHz).
Qualcomm FastConnect 6900 and 6700
We have previously seen Broadcom announced the BCM4389 and now Qualcomm has taken the wraps of their first Wi-Fi 6E chips, the FastConnect 6900 and FastConnect 6700.
These mobile connectivity systems are sold alongside Qualcomm's Snapdragon mobile SoCs. The Qualcomm Snapdragon 865 uses the older Wi-Fi 6 quipped FastConnect 6800, while the Snapdragon 765 comes with the FastConnect 6200.
So it is possible that the new FastConnect 6900 might get used in the Qualcomm Snapdragon 875 which will likely launch in December.
The FastConnect 6900 offers the fastest available Wi-Fi 6 speed at up to 3.6Gbps of any mobile Wi-Fi offering in the industry, according to Qualcomm. The FastConnect 6700, on the other hand, delivers peak speeds approaching 3Gbps.
These high speeds are driven by features such as Qualcomm 4K QAM at 2.4GHz, 5GHz, and 6GHz.
The he FastConnect 6900 delivers extra performance through a unique feature implementation of 4-stream Dual Band Simultaneous (DBS) with multi-band (including 6GHz). In laymans terms, this means the FastConnect 6900 can use 2.4GHz, 5GHz and 6GHz bands for Wi-Fi at the same time.
The FastConnect systems' feature implementation is said to deliver latency reduction up to 8x in congested environments for improved gaming experiences. Wireless VR-class latency (<3ms) for Head Mounted Displays (HMD) is offered, and Qualcomm hopes that it provides a strong foundation for XR applications.
These two new chips bring more than just Wi-Fi, they are also used for Bluetooth and these will introduce Bluetooth 5.2 and LE audio. LE Audio includes tech such as multi-point audio sharing and broadcast audio, enabling multiple audio connections simultaneously.
Qualcomm also claim that the new chips offer up to 50% improvement in power efficiency when compared to previous generation.
Can my Wi-Fi 6 router be upgraded to Wi-Fi 6E?
Sadly not, this is not something that can be enabled via a firmware update, you will need new hardware for everything. This includes your router and the client devices such mobiles and network cards inside your PC.
This does make the thought of buying any current Wi-Fi 6 hardware less appealing, but in reality, we are not likely to see Wi-Fi 6E until some point next year. The current flagship models, such as the TP-Link AX11000, are already prohibitively expensive for your average user and it is likely that Wi-Fi 6E will come with even higher costs.
This is always the case for technology, something newer and better is always due out in the next few months. So I wouldn't specifically avoid buying Wi-Fi 6 hardware right now, it will likely offer more than enough performance for your needs as is.
If you are happy with your existing Wi-Fi 5 hardware but flirting with the idea of upgrading in the near future, it may be worth holding out to see what options become available early next year.
Is 6GHz Wi-Fi 6E safe?
It is sad that I need to add this section at least semi-seriously, but with a growing issue with conspiracy theories around 5G and Coronavirus, it is inevitable some people will claim this new technology is dangerous.
The answer is, not it is not dangerous, we have lived with 5Ghz for years, and it is only recently that conspiracy theory nut-jobs have blamed it for things like Coronavirus. People claimed 4G was dangerous too, and many people used to thing microwaves would kill you if you stand near them.
Last Updated on
AVM FRITZ!OS 7.25 now available for FRITZ!Box 7590 with other routers later. Introduces WFH priority features, new parental controls and better WiFI
AVM have release a major FRITZ!OS update with over 70 new features and improvements. The new FRITZ!OS is available now for FRITZ!Box 7590. The update will be rolled out gradually for all other current FRITZ! products.
While FRITZ!Box routers may not be as popular as the likes of Netgear and TP-Link in the UK, I have always found their routers to be superb. I still use the FRITZ!Box 7590 as the main router for my network controlling DHCP, even though I have moved onto Virgin Cable and use access points for WiFi.
AVM continue to prove why they are a good choice by  not only regularly pushing general updates to fix things, but adding new features.
The latest FRITZ!OS 7.25 is one such update. It is available now for the FRITZ!Box 7590 and should trickle down to other models in the new future
How to update your FRITZ!Box with the latest FRITZ!OS 7.25

Depending on your settings, the router may roll out the update itself automatically. However, you can force this update immediate by:
Log in to your router via its IP
On the left menu, click system, then update
It will inform you of the current version, if not 07.25, hit the "Find New FRITZ!OS" button on the lower right of the white box
Select start update
You will likely lose internet connectivity for a short period of time as the router updates.
AVM FRITZ!OS 7.25 Features:
1. Working from home – set priority devices
Users can now easily prioritize the notebooks or computers they use when working from home. The feature is now also offered directly for the network device in the FRITZ!Box Mesh Overview. When the internet connection is at full capacity, the device gets preferential treatment when using the internet. This is extremely useful when taking part in video calls and meetings, for example.
2. Simplified parental controls
It is now even easier for parents to stay in control of online times and accessible web content. Parental control tickets, which allow additional time slots, can now be better managed on the FRITZ!Box interface. Tickets can now be marked as "distributed" and can also be reset.
3. Manage phone calls more easily – higher transmission quality for mobile networks
For the growing number of telephone calls, the update brings a variety of improvements for ease of use and telephony configuration in the FRITZ!Box. This includes the completely redesigned setup screen for call diversion and call blocking. In addition, transmission quality has been improved for calls to mobile sites with weak cellular connectivity. The redesigned telephone book management means users can, for example, copy and move entries between different telephone books. This helps users separate their professional and private life.
4. Fine tuning for even better Wi-Fi
With more and more devices in the home network, the demands on Wi-Fi are constantly increasing. FRITZ!OS 7.25 includes a number of enhancements for even better Mesh Wi-Fi. Wi-Fi auto channel selection has been further optimized in FRITZ!OS 7.25, ensuring streaming, gaming, or home schooling runs reliably on multiple mobile devices,
5. Weather information on FRITZ!Fon
FRITZ!Fon gets a new home screen that displays current weather information, as well as a forecast for the next few hours and days. Users can now choose between a total of nine different FRITZ!Fon start screens, depending on their preferences.
6. Disable hotspot and answering machine
The FRITZ!Box's Wi-Fi guest access and answering machine can now easily be switched on and off with the FRITZ!DECT 440 smart switch. In addition to FRITZ!App WLAN, the user interface and FRITZ!Fon, FRITZ!Box users now have another option to quickly offer guests a Wi-Fi hotspot. In the future, if you want to turn the answering machine on again during your lunch break, all you'll need to do is press a button.
7. Measure humidity with FRITZ!DECT 440
The FRITZ!DECT 440 smart switch can now measure and display not only the temperature but also humidity. The humidity level can be displayed directly on the FRITZ!DECT 440, in the FRITZ!App Smart Home, on a FRITZ!Fon or in the FRITZ!Box user interface. Users get notified if the humidity is too high or too low. This ensures an ideal indoor climate at all times, which is even more important the more time you spend at home.
8. Data backup for internal storage
The FRITZ!Box's internal memory for images, ring tones, or voice messages has received a data backup function. This allows for the corresponding data to be easily backed up and transferred to a new FRITZ!Box, for example.
9. FRITZ!Box LTE models get text SMS log and SMS sending function
The FRITZ!Box LTE models get significantly improved text (SMS) support. In addition to the new text (SMS) sending function, there is now also a new text (SMS) log that lists received and sent texts. The push service for SMS messages can now also be used for the SMS sending function
10. Fax journal and optimized setup
Especially in a business context, fax is still important. At the request of a number of users, a new fax journal has been integrated, which summarizes received and sent faxes. Setting up the internal fax machine can now be carried out at a central location for sending and receiving. In addition, opening newly received fax document(s) automatically clears the blinking Info LED on the FRITZ!Box, which indicates a new fax.
11. More stable internet connection for supervectoring and Long Reach VDSL
For DSL models such as the FRITZ!Box 7590, the interaction with supervectoring connections (35b) on DSLAM remote sites has been further improved and, at the same time, the interoperability for Long Reach VDSL has been increased.
D-Link DUB-E250 USB-C to 2.5G Ethernet Adapter Review – An affordable & reliable 2.5GbE USB adaptor
With 5G and Wi-Fi 6/6E offering over gigabit transfer speeds, the ageing gigabit wired networks need modernizing.
10 gigabit Ethernet has been around for years, but its adoption within the consumer market has been glacially slow. This has then meant that prices have remained exceptionally high.
For the past year or so, we have started to see more products launch with 2.5GbE; this includes routers and reasonably affordable switches. Then a lot of motherboards and even some laptops have adopted it. So it looks like 2.5GbE is going to be the consumer standard for the foreseeable future.
So if you have bought a router or switch that offers multi-gig performance, you will likely want to bring the rest of your devices up to speed. USB-C adapters are the most convenient way to do this, and for laptops, probably your only option.
I reviewed the TRENDnet USB-C 3.1 to 2.5GBASE-T adaptor back in 2019, I still use it today; while it is good, it was expensive at launch (£75), and is still relatively expensive now (£45).
Since then, many new options have come to the market, some of which are a lot more affordable. The D-Link DUB-E250 is one of those options.
It launched on Amazon for around £60 but has quickly dropped to £40 or below from various retailers.
Specification – A Realtek chipset
Based on Realtek
2.5G Ethernet Connectivity
USB-C / Thunderbolt 3 Connector
Auto Speed Detection
Supports Crossover Detection
Supports Full-Duplex Mode
Two LED indicators
No power adapter required
Bundled with a virtual CD for driver installation (for Windows)
Backwards compatible (10/100/1000 Mbps)
Setup
I wasn't expecting to need to write a setup section, but plugging in the USB-C adaptor loaded up windows dialogue asking what I should do with the attached device.  The adopter then mounted as a CD drive (I obviously didn't read the above spec before testing this).
Clicking the drive, it asks if you want to install the driver, and when you click yes, it just closes down. It isn't immediately obvious, but it has installed.
Upon installation, it appeared to have connectivity issues, with the network connection going up and down repeatedly for a few minutes. However, it eventually settled down to a solid connection.
To check its reliability, I also rebooted my PC to makes sure it connected quickly and stayed connected.
Performance
Testing was done on my main work PC, which uses the AMD Ryzen 5800X and the MSI MEG X570 UNIFY motherboard, which has a built-in 2.5GbE.
My PC is connected to the QNAP QSW-1105-5T 2.5GbE switch, and I also checked it against the Zyxel XGS1010-12.
My server uses the ASUS XG-C100C 10GbE card, but this is restricted to 2.5GbE due to the switch.
iPerf3 & File Transfer Tests
iPerf3
For iPerf3 the command I use for all Wi-Fi and networking testing is:
iperf3.exe -c 192.168.1.2 -P 8 -t 60
The results:
MSI X570 UNIFY – 2.36 Gbits/sec
D-Link DUB-E250 2.5GbE Adaptor – 2.37 Gbits/sec
File Transfer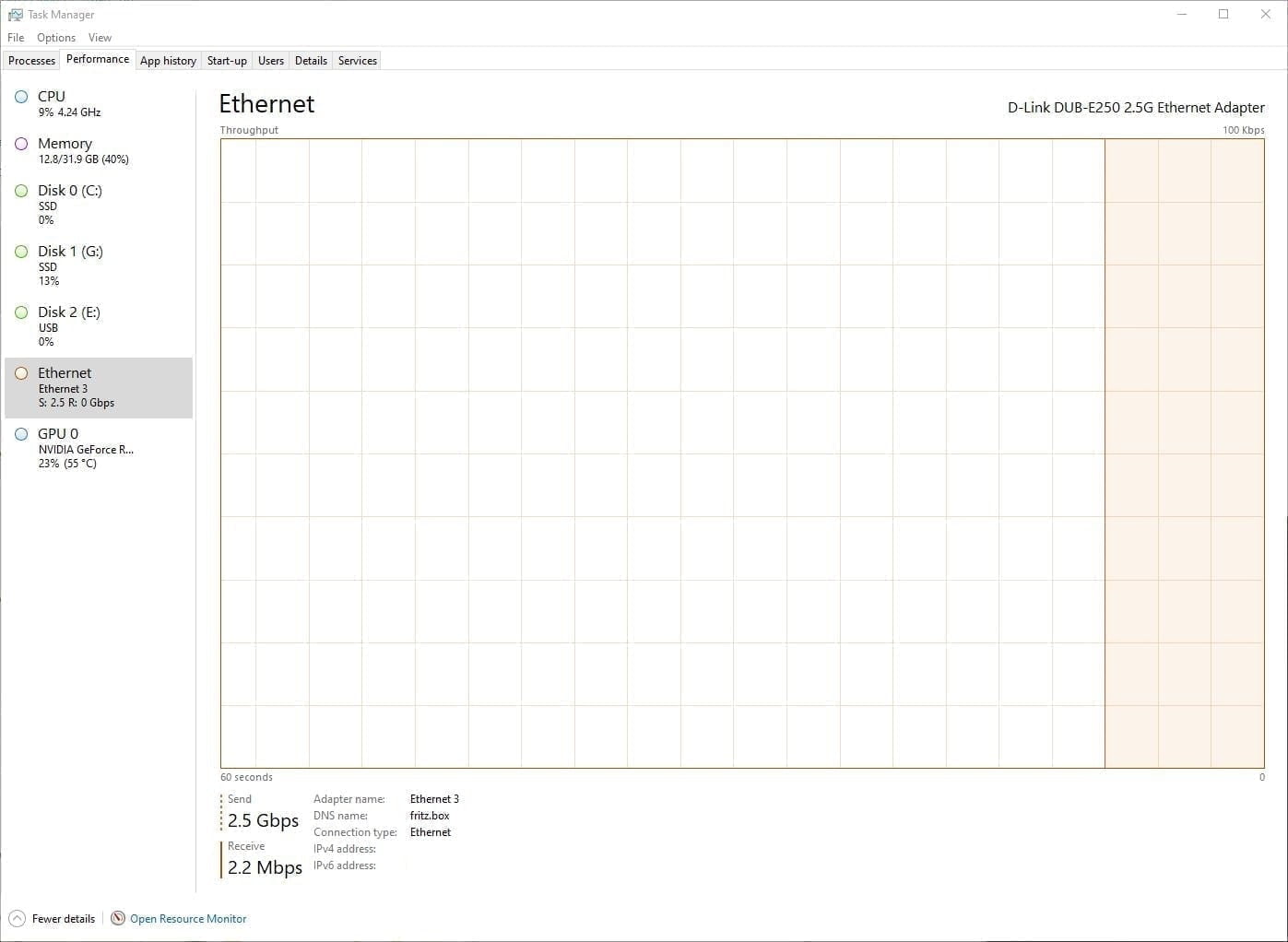 For file transfers, my main PC has a Kingston KC2500 1TB NVMe, while the server uses a slower
500GB Kingston A2000 NVMe. Both drives offer more than enough performance to saturate 2.5GbE and beyond.
As expected, the D-Link adaptor happily maxes out the connection with transfers sitting steady at 280MB/s and being reported as the full 2.5Gbps within Task Manager.
I have used the adaptor on my main PC for the past few days, and during this time, it has had no disconnections that I have noticed, nor does it seem to get excessively warm
Price and Alternatives
The D-Link USC-C to 2.5G Ethernet Adapter (DUB-E250) is around £40, depending on where you buy it from. The current £5 off voucher with Amazon will take it down to £38.99
That makes it a little more expensive than other options, but it has only just been launched and is from a reputable brand.
Alternative options include:
Cable Matters USB C to 2.5 Gigabit Ethernet Adapter – Around £35
Ugreen 2.5GbE adaptor– Around £35
Sabrant 2.5GbE adaptor– Around £33
StarTech 2.5GbE adaptor– Around £46
TRENDnet 2.5GbE adaptor – Around £45
If you plan to use this on a desktop, a 2.5GbE PCIe adoptor will be even cheaper; there are a lot of random brands offering sub-£30 options
Overall
The D-Link USC-C to 2.5G Ethernet Adapter may not be the cheapest option on the market, but it is the most reputable brand from the options I have listed, and I have found the performance to be reliable with no regular disconnections. For the sake of less than a fiver, I'd probably stick with D-Link if I was going to buy one of these.
Overall,  this works well, 2.5GbE is becoming increasingly available on routers and other products, and the prices across products are quite affordable compared to the premium-priced 10GbE counterparts.  

D-Link DUB-E250 USB-C to 2.5G Ethernet Adapter Review Rating

80%
Summary
The D-Link DUB-E250 USB-C to 2.5G Ethernet Adapter is an excellent option for anyone looking to upgrade their network easily and affordabley 
Pros
An affordable option for a big name brand
Idiot proof to use
Achieves full 2.5Gbps speeds
Last update on 2021-02-24 / Affiliate links / Images from Amazon Product Advertising API
Ubiquiti UniFi 6 Long Range Review – Was the U6-LR worth wait & poor customer service?
I previously reviewed the Ubiquiti UniFi 6 Lite, which was my first experience using Unifi properly within my home. I was delighted with its performance for the price, and my compulsive spending got the better of me, so I ordered the Ubiquiti UniFi 6 Long Range as soon as I hit publish on the Lite review.
Poor Experience with Ubuiqiti Store EU Customer Support
My experience buying directly from Ubuiqiti has, however, not been fantastic. The Unifi 6 Lite came through OK, it took a while to get delivered, but it was over the Christmas period.
The LR was ordered at the start of January, with expected shipping on the 19th. I got an email a week before saying it will be shipped soon, but I may get stung with import fees, which they will refund. No problem there, and I appreciate the honesty. Unfortunately, the date came and went with no word on shipping
I emailed customer support on the 23rd and didn't get a reply for 2 weeks where they said it should be shipped in 14 days.
It got shipped shortly after their reply, but the DPD tracking number didn't work at all, so I was clueless about when it may show up. Clicking on the tracking now, it says the order has been created with no further updates.
It ended up being delivered on the 9th of February, two weeks after I got a shipment notification.
I am not alone in this complaint; it seems to be a common issue on the Ubiquiti subreddit with little to no login in when orders get sent out.
Covid and Brexit have obviously caused a lot of issues, some people have made comparisons to the various GPU and CPU shortages. While I am sure this is partly true, most other networking vendors haven't had this level of stock shortages. Ubiquiti were late to launch Wi-Fi 6, so I guess other companies already had built up stock levels.
My main problem was not the poor stock levels though, it is the complete lack of communication from Ubuiqiti. As a home user, it has not been the end of the world for me, but if I was installing access points for business, this could have caused some serious issues with clients waiting for installs.
To be fair to Ubiquiti, I have never dealt directly with Netgear, Zyxel or Engenius customer services. They could be just as bad, and I won't let me experience here reflect on my opinion of the overall hardware.
However, with regular complaints on Reddit, I would advise businesses to weigh up the pros and cons when considering Unifi over other cloud-managed providers.  Personally, I would try and buy from an authorised local vendor with confirmed stock levels where you will normally get far better customer service.
Ubiquiti UniFi 6 Lite vs UniFi 6 Long-Range Access Point Specifications
| | | |
| --- | --- | --- |
| | Ubiquiti UniFi 6 Lite | UniFi 6 Long-Range Access Point |
| Processor  | 880 MHz MIPS 1004 Kec | Dual-Core Cortex A53 at 1.35 GHz |
| Ram | 256 MB | 512 MB |
| MIMO | 2 x 2 | 4 x 4 |
| Channel Width | 20/40/80 | 20/40/80/160 |
| Wi-Fi 4 Suported Data Rate | 6.5 Mbps to 300 Mbps | 6.5 Mbps to 600 Mbps |
| Wi-Fi 5 Suported Data Rate | 6.5 Mbps to 866.7 Mbps |  6.5 Mbps to 1.7 Gbps |
| Wi-Fi 6 Suported Data Rate | 6.3 Mbps to 1.2 Gbps | 7.3 Mbps to 2.4 Gbps |
| Claimed Range  | Not stated | Not stated |
| Ethernet | Gigabit | Gigabit |
| Power Method | 802.3af PoE, Passive PoE (48V) | PoE+, Passive PoE (48V) |
| Max. Power Consumption | 12W | 16.5W |
| Max. TX Power | 23 dBm | 26 dBm |
| Antenna Gain 2.4Ghz/5Ghz | 2.8 dBi/3 dBi | 4 dBi / 5.5 dBi |
| Concurrent Clients | 300+ | 300+ |
| Operating temps  | 30 to 60° C (-22 to 140° F) |  -30 to 60° C (-22 to 140° F) |
| IP Rating | None stated   | IP54 rated (semi-outdoor) |
| Dimensions  | 160 x 160 x 32.65 mm | 220 x x 220 x 48 mm |
| Required Controler Version  |  5.14.3 or higher | 6.0.34 or higher |
| Price  | €79.00/€95.59 VAT incl. | €149.00 /€180.29 VAT incl. |
| | £87-ish | £165-ish |
I wrote a more detailed comparison of the UniFi 6 Lite vs UniFi 6 Long-Range and how they compare to the older Wi-Fi 5 models.
Basically, the U6-LR is just better all-round, it has more capacity with the 4×4 MIMO, superior antennas and the ability to use 160MHz vs 80MHz.
The main downside to it is that it is really quite large. As far as access points go though, the Unifi range is the best looking. So the massive circle on my ceiling still looks OK.
On paper and ignoring stock issues, there seems to be little reason for most people to opt for anything other than the two new UniFi 6. They are both priced extremely attractively in comparison to both the older counterparts and the rest of the industries offerings.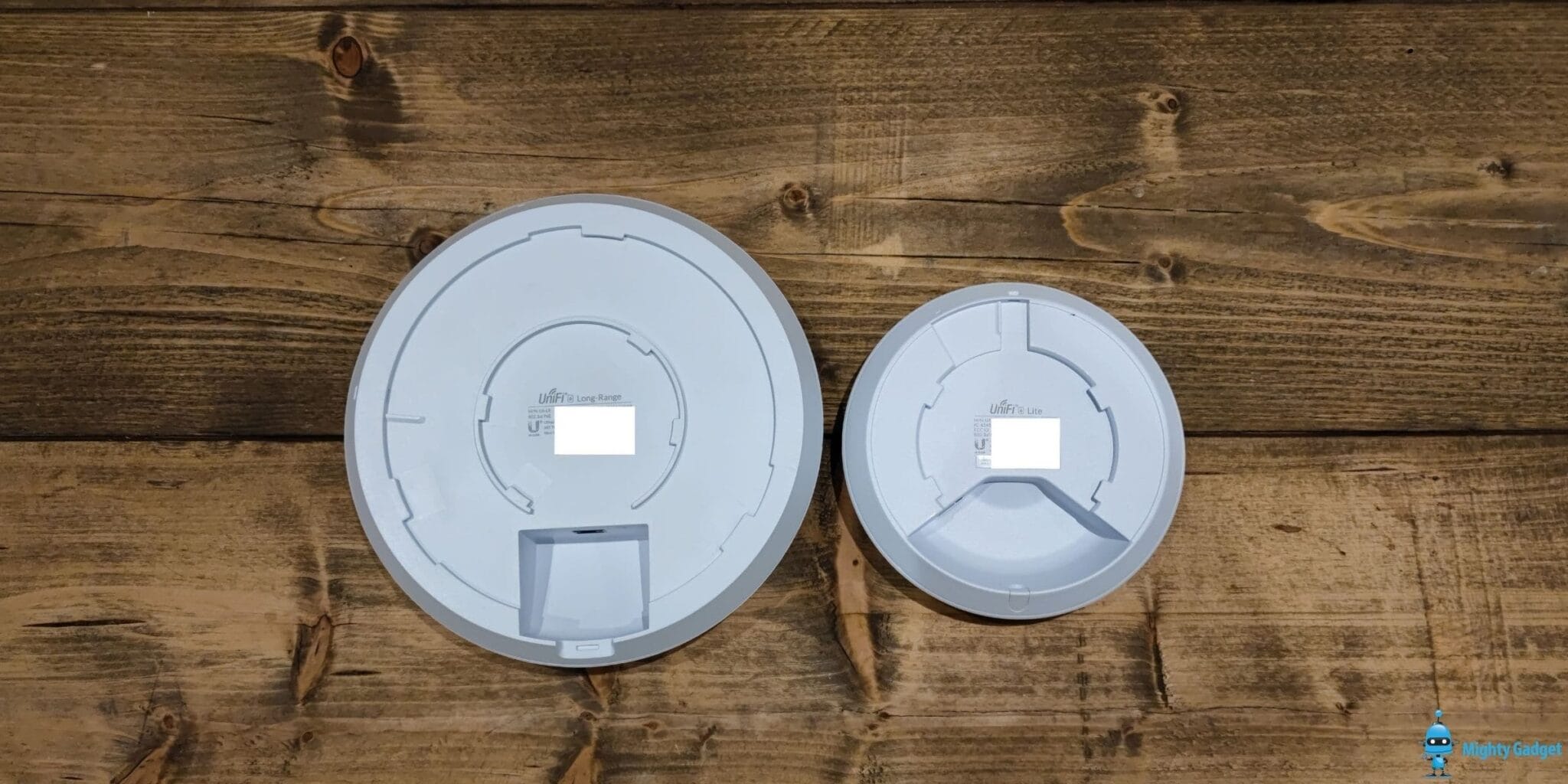 Setting up UniFi Network Controller in Docker
I already covered this in my previous review. The code used was:
docker run -d 
    --restart=unless-stopped 
    --net=host 
    --name=unifi 
    -e TZ='Europe/London' 
    -e RUNAS_UID0=false 
    -e UNIFI_UID=1000 
    -e UNIFI_GID=1000 
    -v /home/username/.config/appdata/unifi:/unifi 
    jacobalberty/unifi:stable-6
To avoid issues with invalid usernames, you need to connect to the controller via port 8443 and accept the SSL warning.
I was running an older version of the controller so I had to pull the new controller version (before trying to set the AP up (you need V6)
Setup and settings for UniFi 6 Lite Access Point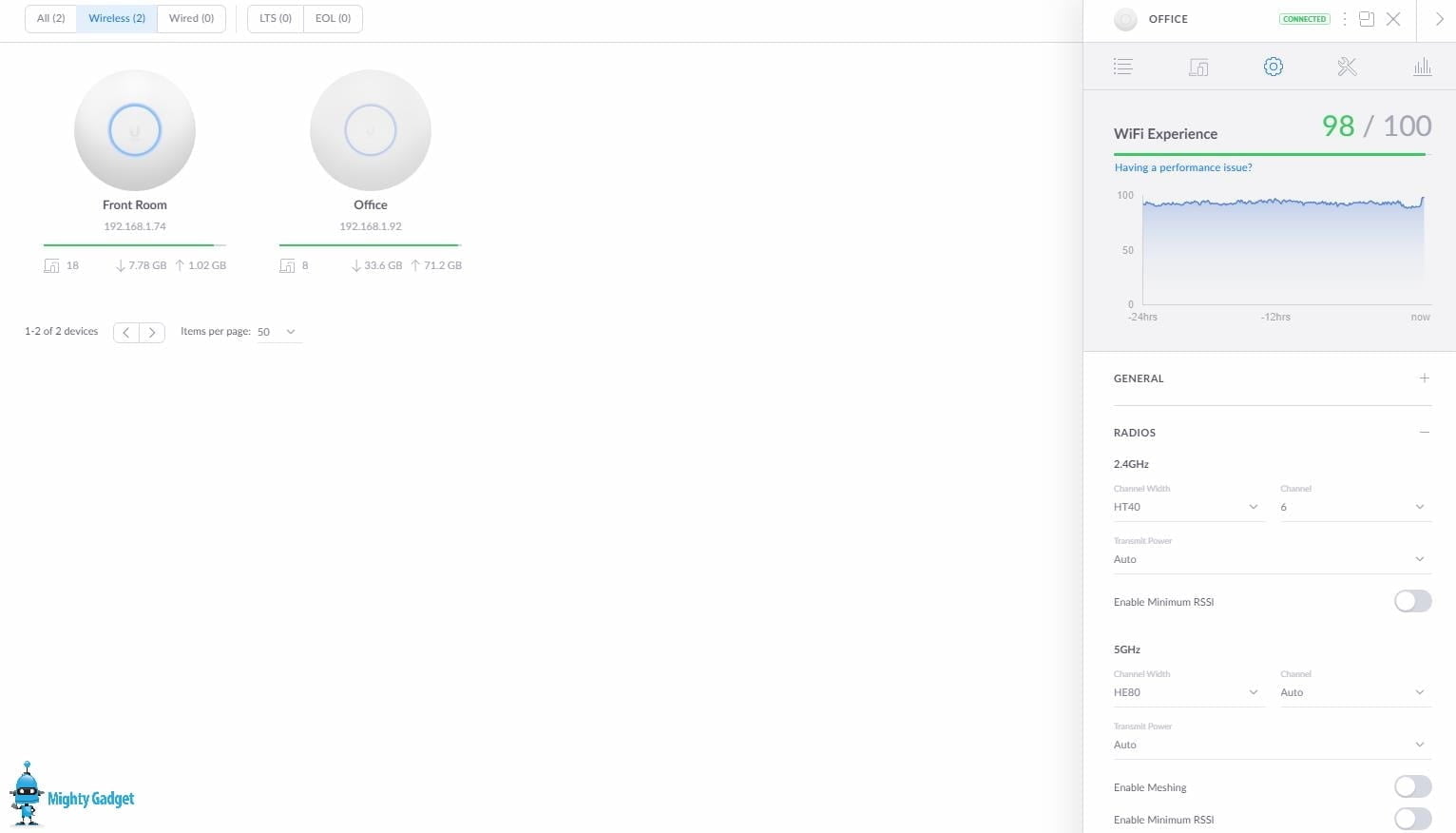 I won't go over the Unifi system too much. In short, it is excellent and easy to use. You can optionally leave these to auto optimise by themselves or manually tweak things until you are happy. I have experimented with various options to try and improve performance.
One option that everyone should consider changing is the channel width. With the LR model, you have the option for up to 160Mhz which will give you a theoretical transfer speed of 2400Mbps, though the gigabit Ethernet port will limit the overall performance.
In my system, I retained all the SSIDs of my old network so I have a completely separate 2.4Ghz and 5Ghz network.
Test Setup
Just the same as the Unifi review the hardware used for testing includes:
Performance – 5Ghz Wi-Fi 6
Performance has been outstanding. With this review, I ran both the LR and Lite in unison, giving me a better overall experience of the UniFi ecosystem.
It took a little experimenting to get things working the way I want. Living a few miles off a small airport sometimes makes DFS channels problematic. On the bright side, I live in a semi-detached house, surrounded by old neighbours, so while there is some Wi-Fi interference, it is minimal, the closest 5Ghz network has a signal of -80dbm
Using 160Mhz, I had no option but to use DFS for one AP so a used the Lite on channel 100 with the LR on channel 36 in 160Mhz.
The LR is located on the ceiling of my office, just like all other access point reviews. In this position, my main PC gets a strong 2.4Gbps connection in the Wi-FI status, with little jumping around.
iPerf3 Throughput Tests
Wi-Fi 6 
Average throughput
Mbits/sec
Type
Netgear Nighthawk  RAX120
1208
Router (2.5GbE)
Netgear Nighthawk Pro Gaming XR1000
949
Router (Gigabit)
UniFi 6 LR 160Mhz
921
Access Point
Netgear Orbi Pro WiFi 6 
910
Mesh System
UniFi 6 LR 80Mhz
871
Access Point
Netgear MK63
869
Mesh System
UniFi 6 Lite
833
Access Point
TP-Link Deco X60
820
Mesh System
Netgear WAX610
811
Access Point
With iPerf3 there doesn't seem to be much gain to be had when using 160Mhz vs 80mhz the PC reports transfer speeds regularly in excess of 900 Mbits/sec. This is an outstanding speed for Wi-Fi 6 on 80Mhz.
With 160Mhz, the average speeds is consistently over 900 Mbits/sec whereas on 80Mhz it was more like 850 Mbits/sec. So I am only really seeing a 6% improvement in speed.
I would expect many people will find it easier to run this in 80Mhz with little to no performance loss.
Large file transfer
Large file transfers happily maxed out the gigabit ethernet connection, just with the odd drop off in performance. There is not much else to say here, I think this is the best performance of any access point I have used with only 2.5GbE equipped routers outperforming it
Range Testing
Range isn't magically increased compared to the Lite model. Leaving the access point using automatic power it actually seemed to perform a little bit worse than the Lite on the 5Ghz channel
I struggled to get a signal in my garage/gym, which to be fair few if any mesh systems or access points manage, but the Lite did just about do it. At 2.4Ghz I was able to decent enough signal to connect to my server at 30 Mbits/sec.
Most people recommend not to set power too high for the radio. Experimenting with different settings appeared to offer detrimental performance in close proximity, with speeds dropping down to 818 Mbits/sec on average in iPerf. Higher power didn't seem to affect range all that much either. I did get a signal in the garage with intermittently good speeds, but it would drop off or disconnect frequently. If/When I fully commit to Ubiquiti I will just get another Unifi 6 Lite for the gym.
For less extreme scenarios, the UniFi 6 Long-Range performs better than any other mesh system or access point I have used. In my living room, I comfortably get 500 Mbits/sec sat on my couch, with the AP the floor above.
In the kitchen, the furthest room inside the house away from the AP I get 300 Mbits/sec.
Performance – 2.4Ghz and 5Ghz Wi-Fi 5
I only use 2.4Ghz for IoT devices, so I am not too fussed about the overall performance here. My office PC happily connects at a reported 300Mbps, but throughput sits at around 100 Mbits/sec in iPerf. Range is superb as I previously mentioned, I get 30 Mbits/sec in the garage, which is down a level, through three brick walls and across a small back garden.
Wi-Fi 5 is also excellent, most devices are still on this, and you potentially get similar speeds as Wi-Fi 6.
The Huawei P30 Pro can utilise 160Mhz, unlike older Qualcomm based phones. Using iPerf3 on the Wi-Fi Speed Test Pro app the average speed over 1 minute is 713 Mbits/sec
Using a laptop with an Intel Wi-Fi module, again I can utilise 160Mhz allowing me to connect at 1.7 Gbps. With iperf, the laptop connects at 894 Mbits/sec and on 80Mhz it still managed an manged 68M
The Asus USB-AC68 can connect with 3×3 so should connect at over 1.2Gbps, but for some reason would only connect at 866Mbps as if it is using 2×2. I am 90% sure this is due to the Asus device, as it is a bit rubbish.
Price and Alternative Options
The UniFi 6 Long-Range Access Point is priced at €180.29 inc VAT and postage, this works out at around £158 making it by far the most affordable access point with 4×4 MIMO and 160Mhz.
Sadly, it is not in stock, and this seems to be an ongoing problem with Ubiquiti.
The UniFi 6 Lite Access Point is in stock and just €95.59, at around £84, most home users and small business are better off buying this, it is also in stock.
The Zyxel NWA210AX is the best alternative product from a different brand. At £203 it also has a 4×4 antenna (only on 5Ghz though), and it can also do 160Mhz. It has the added benefit of a 2.5GbE port so you should be able to exceed gigabit speeds. It then has a 2nd gigabit Ethernet port and DC input. There is also no need to set up a cloud controller, Zyxel Nebula is free of charge (for most features). However, the transmit output power is lower, but antenna gain about the same as the Unifi 6 LR. The main negative for the Zyxel system for home users or smaller business is that the most affordable Zyxel NWA110AX  is £170 (it has been as low as £135).
Netgear have the WAX214 Essentials for around £100, but it is locally managed
Overall
The UniFi 6 Long-Range offers incredible performance for the money and is the best performing access point I have used in the past year.
The only minor negatives I can think of is that for home users or small businesses, the LR probably doesn't offer much more performance than the Lite considering the price hike. The lack of a multi-gigabit ethernet port limits the overall performance for a single user, and the physical size of it may be off-putting in-home scenarios.
The UniFi 6 Long-Range is more geared towards commercial use with a greater number of users. The 4×4 design doesn't offer a great number of advantages in a small household, but multi-user-MIMO should be able to take advantage of this with more than one user access the AP at once.
At around £160 the LR is a small investment for a lot of businesses, and the lack of ongoing costs make it particularily appealing. As mentioned earlier, it would seem these savings come at the cost of customer support, but that's something people will need to think about based on their own needs.
For tech enthusiasts or consumer just wanting the best performance possible, the UniFi 6 Long-Range is still a great buy. It is not prohibitively expensive and you only really need one located in your main living area with the Lite model covering the outskirts of your property.
I have given this is a lower score than the Lite, purely for the fact I feel that the Lite offers better overall value for money.  

Ubiquiti UniFi 6 Long Range Review Rating [U6-LR]

90%
Summary
The Ubiquiti UniFi 6 Long Range is superb offer the best performance I have had from any access point so far while being cheaper than most of the competition.
The lack of multigigabit Ethernet hinders its peak performance but it is unlikely most people would notice.
Pros
The top-performing access point I have tested so far
Very reasonable price vs competing brands
Cons
Gigabit Ethernet limits maximum throughput
Lite offers better value for money for home users
Last update on 2021-02-18 / Affiliate links / Images from Amazon Product Advertising API